NLD-LED4D7SB





Kit: $7.95
Assembled: $12.95

4 Digit 7 Segment LED Display Module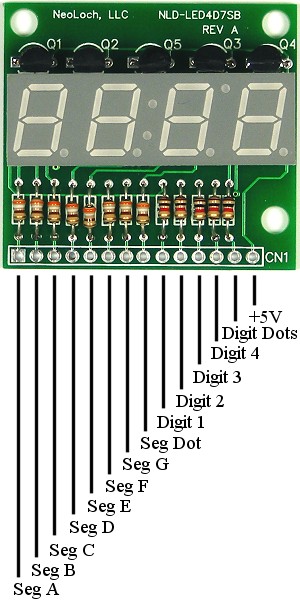 I wanted a simple LED 7 segemnt display that I could integrate into a breadboard project easily without having to add all the supporting circuitry, and also be usable in the final circuit build. Well, this is what I came up with.
This little module uses a bright common anode 4 digit 7 segment display. Uses 1/8th watt resistors, and five transistors all wrapped up in a small package that measures 1 10/16" by 1 15/32".
The kit and assembled unit includes a 14 pin straight header so you can easily attach the display to a breadboard and then, later on, easily add the display to the final circuit build. Also, regardless if you buy a kit or a an assembled unit, the header will not be soldered to the pc board.
The display also includes 3 additional dots that are accessed using the fifth transistor. If you don't intend to use these additoinal dots on the display, you can simply exclude connecting the fifth transistor. This additional dots are accessed via segments A, B, and C.
all
NeoLoch, LLC
code listed on this page is licensed under the
Creative Commons Attribution-NonCommercial 3.0 Unported License
.
Fireloch is a trademark of NeoLoch, LLC
ICSP, PICkit are trademarks of